So I got bored, oh and the red braiding arrived, so out came the front panel unit from the 900D and braiding commenced to make the drops to the mother board red and prettier. All went well, sadly can't braid the USB3 cable as I can't remove the connector.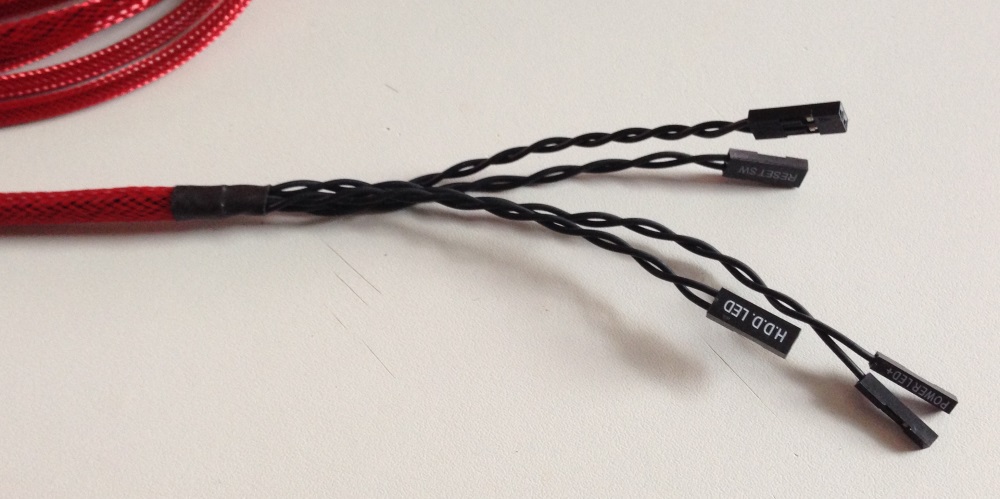 Using this opportunity I've bundled the front panel switches and lights together, they go to the same place on the mother board and they look a lot tidier now there's only one "wire" from the front panel.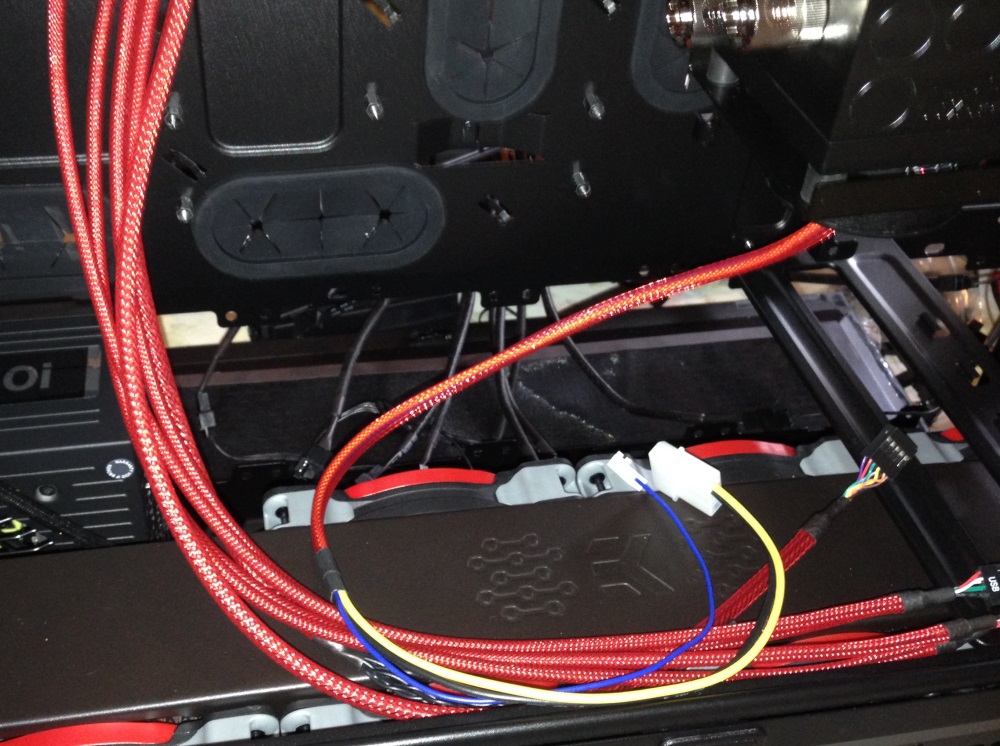 Also re did the pump cables, using flash you can see through the braiding and see the individual wires but it's not visible normally. The braiding was done to be enough to get the pump wires through to the back where they can't be seen, I can foresee having to do the power and tacho wire too, should be able to do a nice job of that though with only one bit of heat shrink in the middle.
You can also see a Corsair AX860i has been installed for the power supply, red braided cables have been ordered for it (though are on back order).
I've spent some time looking at fan controllers, the question comes down to how much of a control freak do I want to be. Most controllers top out at 6 fans, some like the Aquacomputer Aquaero 6 can do 4 but claim to be expandable to 12. The Aquaero 6 is sexy as hell, but has a price to match.
In preparation though I'm ordering in-line temperature probes for the cooling system to get radiator input and output temps, far easier to install them now. I'd like to get a flow meter too for reporting/alarming purposes.
While talking about fan controllers on reddit someone pointed me towards a few case modifications.
One of the bigger complaints/concerns about the 900D is the unfiltered large mesh at the back of the case, it turns out Ricardo Gomes (aka Patuga/ColdZeroTeam) has a shop which sells plates to address the issue.
So I've ordered a plate that restricts that flow, a blanking plate just in case I want to block up the front fans and finally a mid plate which separates the area I'm using for PSU and radiator with the upper compartment. Experiments show there's little differencing in using the midplate, but frankly I just like the idea of separating them.